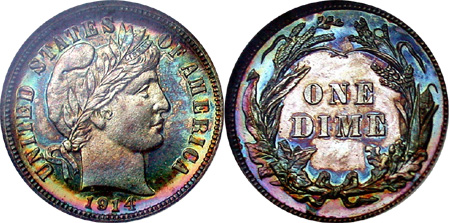 Proof Barber Dimes (Buy on eBay) were struck for each year of the series at the Philadelphia Mint, with the exception of 1916. The mintages ranged from a high of 1,245 for the first year of the series in 1892 to a low of 425 in 1914.
Although these quantities are far below the mintages for circulation strikes, proofs were purchased or acquired by collectors or dealers at the time of issue, resulting in a much higher survival rate. With many pieces preserved in collections, all proof issues remain relatively available for present day collectors.
The one exception is the 1894-S Barber Dime, which has come to be classified as a proof striking. This classic rarity had a mintage of just 24 pieces. The finest surviving examples have realized prices above $1 million at auction and in private treaty sales.
Many collectors will seek to acquire proof Barber Dimes that display cameo or deep cameo contrast. These examples will show frosted raised design elements and mirrored background fields. The major grading companies provide designations for coins meeting their criteria for cameo coinage.
Proof Barber Dime Mintages
| Issue | Mint |
| --- | --- |
| 1892 | 1,245 |
| 1893 | 792 |
| 1894 | 972 |
| 1895 | 880 |
| 1896 | 762 |
| 1897 | 731 |
| 1898 | 735 |
| 1899 | 846 |
| 1900 | 912 |
| 1901 | 813 |
| 1902 | 777 |
| 1903 | 755 |
| 1904 | 670 |
| 1905 | 727 |
| 1906 | 675 |
| 1907 | 575 |
| 1908 | 545 |
| 1909 | 650 |
| 1910 | 551 |
| 1911 | 543 |
| 1912 | 700 |
| 1913 | 622 |
| 1914 | 425 |
| 1915 | 450 |