With a total proof mintage of just 24 pieces, the 1894-S Barber Dime represents one of the highlights of American coinage. The production of the coins was included in the Mint Director's report for the year, although the exact details surrounding the creation of these pieces remains unknown.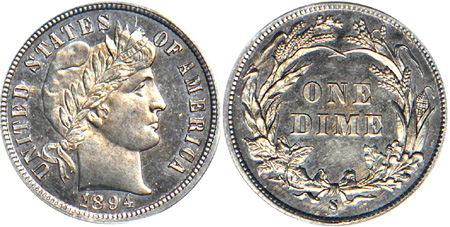 The most widely accepted theory suggests that John Daggett, the superintendent of the San Francisco Mint, had produced and distributed a small group of 1894-S dimes to seven highly ranking individuals who had visited the mint. He had given three pieces to each individual and kept three for himself, which he later gave to his daughter Hallie Daggett. Numismatic lore holds that Hallie spent one of the dimes on an ice cream and kept the other two. After the curiously small mintage, no further coins of the denomination were produced at the San Francisco Mint for that year.
Of the original reported mintage, only nine pieces are currently identified. Three are considered to be in gem quality, followed by four in lower uncirculated grades, and two heavily circulated pieces, including the so-called "ice cream" specimen. The highest graded pieces have generated strong interest and prices when offered at auction. The two pieces graded PR-66 have sold for $1.5 million and nearly $2 million in recent years.
Coin Specifications
Designer: Charles E. Barber
Composition: 90% Silver, 10% Copper
Weight: 2.5 grams
Diameter: 17.9 mm
Edge: Reeded