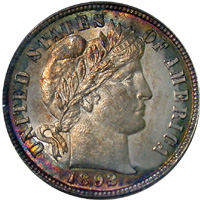 The Barber Dime was minted between the years 1892 to 1916, inclusive. Throughout the series, the coins were struck at the Philadelphia, New Orleans, San Francisco, and Denver Mints. In general, the mintages were the highest at Philadelphia and more limited at the branch mint locations.
The lowest mintage for a circulation strike of the series was the 1895-O at 440,000 pieces. The highest production occurred with the 1907 Barber Dime at more than 20 million coins.
Numerous issues have mintages below the one million mark. Generally, these coins command premium prices compared to the higher mintage issues.
Below is a table of the mintages for Barber Dimes stuck for circulation.
Barber Dime Mintages
| Issue | Mint |
| --- | --- |
| 1892 | 12,120,000 |
| 1892-O | 3,841,700 |
| 1892-S | 990,710 |
| 1893 | 3,340,000 |
| 1893-O | 1,760,000 |
| 1893-S | 2,491,401 |
| 1894 | 1,330,000 |
| 1894-O | 720,000 |
| 1895 | 690,000 |
| 1895-O | 440,000 |
| 1895-S | 1,120,000 |
| 1896 | 2,000,000 |
| 1896-O | 610,000 |
| 1896-S | 575,056 |
| 1897 | 10,868,533 |
| 1897-O | 666,000 |
| 1897-S | 1,342,844 |
| 1898 | 16,320,000 |
| 1898-O | 2,130,000 |
| 1898-S | 1,702,507 |
| 1899 | 19,850,000 |
| Issue | Mint |
| --- | --- |
| 1899-O | 2,650,000 |
| 1899-S | 1,867,493 |
| 1900 | 17,600,000 |
| 1900-O | 2,010,000 |
| 1900-S | 5,168,270 |
| 1901 | 18,859,665 |
| 1901-O | 5,620,000 |
| 1901-S | 593,022 |
| 1902 | 21,380,000 |
| 1902-O | 4,500,000 |
| 1902-S | 2,070,000 |
| 1903 | 19,500,000 |
| 1903-O | 8,180,000 |
| 1903-S | 613,300 |
| 1904 | 14,600,357 |
| 1904-S | 800,000 |
| 1905 | 14,551,623 |
| 1905-O | 3,400,000 |
| 1905-S | 6,855,199 |
| 1906 | 19,957,731 |
| 1906-D | 4,060,000 |
| 1906-O | 2,610,000 |
| 1906-S | 3,136,640 |
| 1907 | 22,220,000 |
| 1907-D | 4,080,000 |
| Issue | Mint |
| --- | --- |
| 1907-O | 5,058,000 |
| 1907-S | 3,178,470 |
| 1908 | 10,600,000 |
| 1908-D | 7,490,000 |
| 1908-O | 1,789,000 |
| 1908-S | 3,220,000 |
| 1909 | 10,240,000 |
| 1909-D | 954,000 |
| 1909-O | 2,287,000 |
| 1909-S | 1,000,000 |
| 1910 | 11,520,000 |
| 1910-D | 3,490,000 |
| 1910-S | 1,240,000 |
| 1911 | 18,870,000 |
| 1911-D | 11,209,000 |
| 1911-S | 3,520,000 |
| 1912 | 19,349,300 |
| 1912-D | 11,760,000 |
| 1912-S | 3,420,000 |
| 1913 | 19,760,000 |
| 1913-S | 510,000 |
| 1914 | 17,360,230 |
| 1914-D | 11,908,000 |
| 1914-S | 2,100,000 |
| 1915 | 5,620,000 |
| 1915-S | 960,000 |
| 1916 | 18,490,000 |
| 1916-S | 5,820,000 |